The audit process constitutes several different dimensions that need to be factored in by auditors during the audit process.
Both, internal, as well as external auditors, are supposed to plan the audit process carefully in order to ensure that they can optimize their results for a performance-oriented outcome.
Factually, a lot of auditors rely on MS Excel and Ms. Word during the audit process, since it is free to use and offers almost every tool that is needed during an audit process.
However, there are certain limitations of the Audit Process that cannot be ignored. Regardless of the fact that MS Excel is used across all organizations regardless of their size and scale of operations, there are certain limitations of MS Excel that make sure that auditors have all the required tools that can help them streamline the audit process.
In addition to MS Excel, auditors now use a variety of different software that help them achieve better results over the course of time.
The main rationale behind using this software is to implement audit-related features in a more efficient and accurate manner, which is likely to increase the overall productivity associated with the audit process.
Below is a list of some of the most popular software that is used by auditors across the world. Regardless of the nature of the audit (internal or external), auditors rely on this software to plan and execute the audit process in an effective manner.
1) MetricStream Audit Management
MetricStream is one of the most popular audit management software. It is flexible, supportive, and offers a comprehensive audit management solution.
In this regard, the software handles a wide range of activities pertaining to audit that broadly covers internal audit, operational audit, supplier audit, IT audits, as well as quality audits.
Therefore, this software is best suited for internal, as well as external audits. This particular audit software boasts advanced built-in capabilities that include remediation, email support and notifications, risk assessment and risk assessment methodologies, as well as other functionalities that are directed towards making the audit process considerably smooth.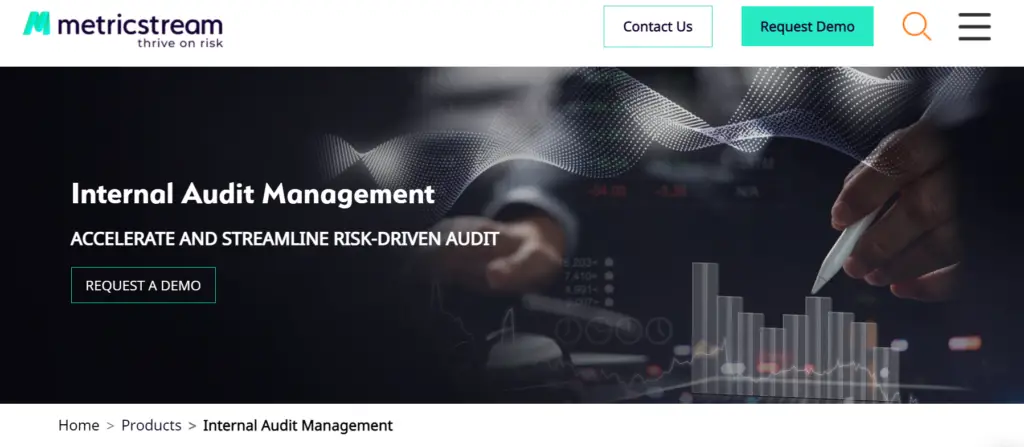 The main reason why MetricStream continues to be preferred by clients across the globe mainly relies on the fact that it helps in audit planning, as well as compliance management, to ensure that the audit process is executed in a smooth manner, without any bottlenecks, to say the least, the interactive dashboard acts as an added feature that helps auditors to stay on top of things and ensure that all the planned activities are successfully implemented in due time.
From the perspective of auditors, it tends to be a very user-friendly software, also because of the fact that it provides a free trial to users to check if the software is well suited to their needs.
2) Intelex Audit Software
Intelex Audit Software is regarded as one of the most popular and widely acclaimed audit software that helps auditors stay organized on a number of different grounds.
Audit Reports from both, internal sources as well as from external ones are considered to be highly important in order to ensure that the respective documentation is sorted out for better-optimized results.
In this aspect, it is important to consider the fact that streamlining the audit process is considered to be highly beneficial because it eventually helps in decision-making.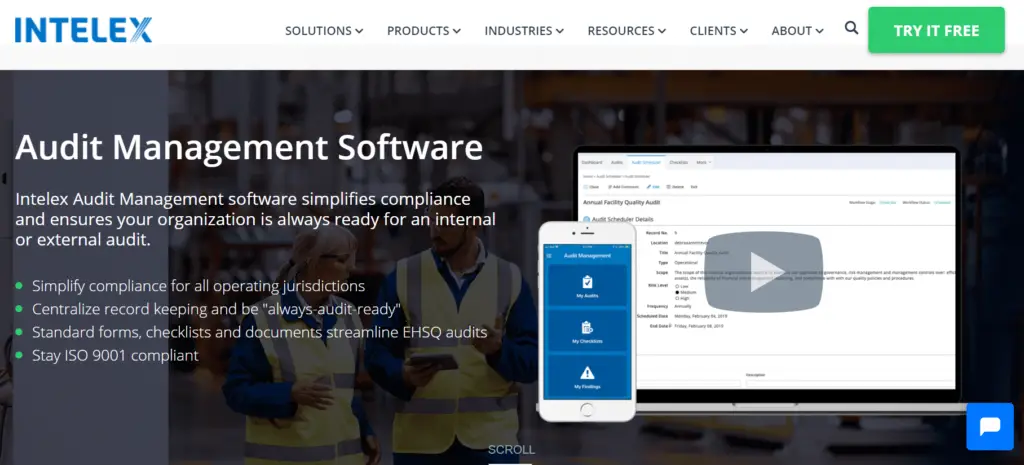 However, the primitive need of having software that helps to manage all these things is the fact that it helps to plan the subsequent audit processes in a smooth manner. Additionally, it also tends to be important because it helps to identify areas that need management attention on a high-priority basis.
The main salient features that are offered by Intelex Audit Software constitute Audit Planning, compliance management, dashboard, issue management, as well as risk assessment. It also offers a free trial to the users to check for compatibility as well as the overall efficacy of the software.
3) MasterControl Audit Management
MasterControl Audit Management is another accounting and audit-related software that is directed towards reducing the time required for preparation, as well as for the conduction of various audits during the normal course of business.
This particular software is highly recommended for specialist businesses, like Life Sciences because it focuses on quality and safety, as well as other metrics that are considered to be highly important from the business perspective.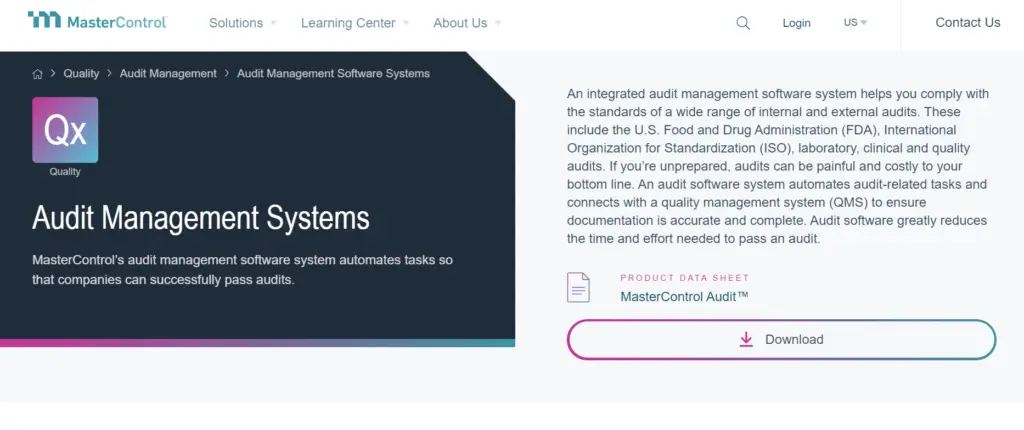 MasterControl Audit Management software, therefore, places a strong emphasis on compliance management, dashboard creation (and maintenance), internal control management, risk assessment, and analysis as well as issue management.
It is priced at roughly $1,000 per month. However, users get to utilize a free trial in order to check for the effectiveness of the given software.
4) Gensuite
Gensuite has widely been known and accredited for helping companies ensure that they are well compliant, in terms of minimizing the risk factors involved.
It is known for its functionality, as well as its user-friendliness that helps users to extrapolate the maximum benefits out of the given state of affairs.
The software that is used as backend support for Gensuite is referred to as EHS software. It allows organizations to tackle complex auditing processes in a fairly easy and convenient manner.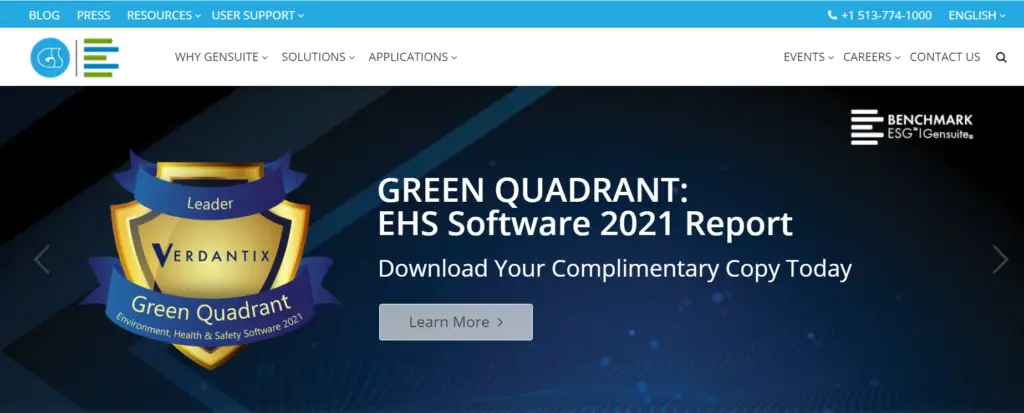 Therefore, the software can be best described as problem-solving software that helps to provide viable solutions including responsible sourcing, asset management, as well as product stewardship.
It can best be described as a solution of solutions.
There are around 60 different applications that are offered along with mobile integration. The greatest advantage of Gensuite is the fact that it offers a high range of flexibility with the required solutions.
It offers services along the lines of compliance management, dashboard, issue management, multi-year planning, as well as risk assessment. It also provides a free trial to the users of the system.
5) SmartSolve
SmartSolve is another audit planning tool that is used by auditors because of the help and efficacy it provides pertaining to standardized auditing management.
SmartSolve is considered an effective and efficient audit management tool that comes with stellar features that are targeted toward boosting the productivity of auditors.
The interface, as well as the user-friendliness of this particular software, is spot-on since it offers greater performance reliability and much-needed help in reviewing audits.
Therefore, it helps to resync the enterprise model from a remote location, which really helps in uplifting the overall functionality of the system.

The areas for which SmartSolve is mostly used include audit planning, compliance management, dashboard issue management, as well as risk assessment.
They have different pricing packages available for different users, and they also provide a free trial to users to check if this particular software meets their needs or not.  
Therefore, it can be seen that the tools mentioned above are almost all aligned toward one common goal: facilitating a much better audit process.
As a matter of fact, it can be seen that the auditors use different software that helps them execute the process efficiently, as well as accurately.
The choice of the respective software, however, should comprise a number of different elements that are required by the auditor. In the case of a financial audit, the chosen software should have the required functionality that helps efficiently plan and execute financial audits.
Similarly, a quality audit should also cover the required fundamentals that can help add considerable value during the audit process.